Extract SMS and iMessage
iBackup Viewer extracts both iPhone sms messages and iMessage from backups. And it shows the messages in conversation styled bubbles. The green bubbles represent SMS messages, and blue bubbles for iMessages.
You can either export conversations to text format file, or save selected messages to PDF file.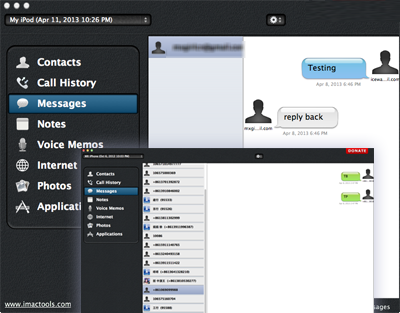 Notes and Voice Memos
With iBackup Viewer, you can show all of your iPhone notes in backups in cool way. And play voice recording memos like on your iPhone.
When you have a recoring selected, playing and saving the voice memo to disk becomes really easy by clicking buttons.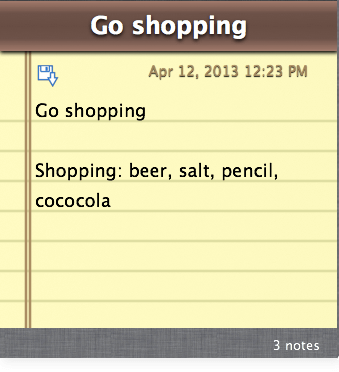 Preview App Data File in Different Mode
When you choose a file in Application selection, iBackup Viewer will automatically detect the file format and try to open it in certain mode. Of cause, you can choose proper mode manually.
iBackup Viewer supports Image file, Property List file, text file with different encodings, and binary hex mode.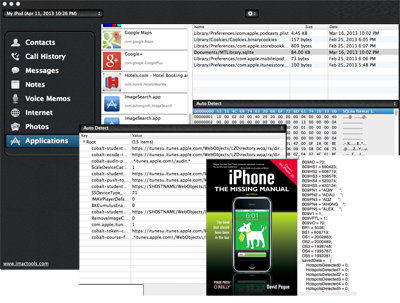 ---
You may want to:
Learn More about iBackup Viewer
Free iPhone backup extractor that browses and manages iOS backups.
What is iBackup Viewer?
iBackup Viewer is an iPhone backup extractor manages to extract data from iPhone / iPad backups, including contacts, call history, SMS messages, web visits, website bookmarks, photos and iPhone Apps.
How does it work?
iTunes backs up iPhone and iPad contents into unreadable database and files. This makes it difficult to get necessary information for the backed up files. iBackup Viewer does load and parse the iPhone backups, and extract those useful data, and convert them to readable format for viewing.
What can iBackup Viewer do?
With iBackup Viewer, you can extract most of the important and useful data from iOS backups, including:
Extract contacts and groups, and save to mac address book.
Show call history and save to well formatted text file.
Show sms messages conversation, and save to text file.
Show sms messages to pdf file with form of conversation.
Manage web history and URL bookmarks, sync bookmarks to desktop Safari.
Extract Photos, browse photos in thumbnails, export photos to shosen location.
List iPhone / iPad Apps and data.
Preview Apps' data, and export to specified file.



Apps & Data
Manage backuped Apps and user data.

Call History
Browse phone call history and save to well formatted text file.

SMS Message
Show sms & mms messages, export messages to formatted text file.

Contacts
Parse contacts and groups, export the groups and contacts to Mac Address Book automatically.

Bookmarks
Sync bookmarks from iPhone backups to desktop Safari.

Web History
List out mobile web visits history. Launch safari to view the history URLs.

iPhone Photos
Extract backed up photos and save to local computer.

Auto Updates
Auto check for updates of new versions free. User will have the benefits to free updates to avoid buying the software more times.

Easy and Efficient
Easy and efficient with less memory used during the whole process.
---