Intelligently Copy iOS to Mac Transfer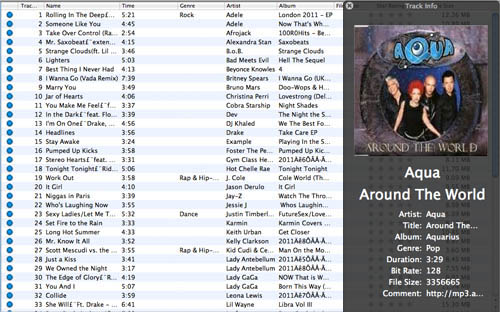 Cefipx copies music songs from iPod to Mac computer, iPhone or iPad to mac computer to rebuild iTunes library.
Cefipx provides the easiest way to transfer music and videos from iPod, iPhone, iPad to mac computer. Music transfer starts automatically as easily as single click after a few simple settings. The transfer process will recreate playlists in iTunes library according to those information on iOS devices, and Cefipx is intelligent enough to avoid duplicates of tracks. Tracks are already included in iTunes library will be ignored and marked with special icon.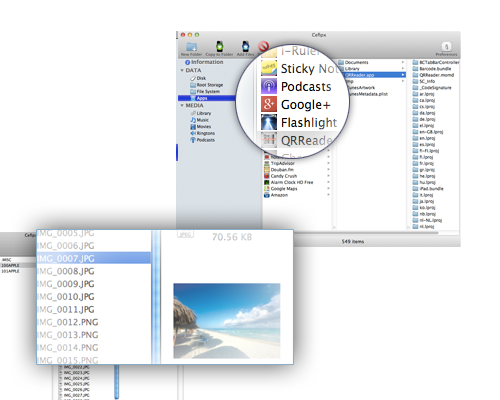 iPhone File Browser
Accessing iOS devices' file system becomes easy with Cefipx ,you can copy files from and to iPhone like in Finder.
Cefipx supports to manage normal files, photo images in Camera Roll, and also iOS Apps' data file.
You can the way to copy as you like, since Cefipx implements different ways to do so:
Via buttons on the top toolbar
Via context menu by right clicking in file browser
By dragging and dropping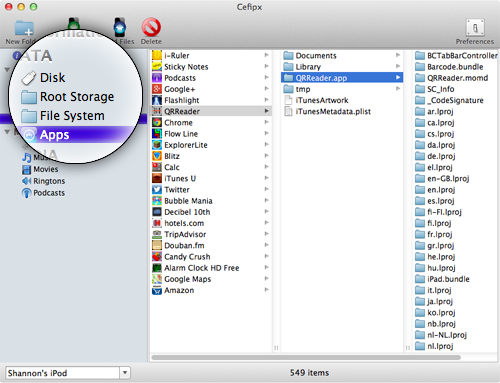 Access Root Storage
If you have had your iOS device jailbreaked. Cefipx will detect it, and show the root storage file system. So that you can copy files as you like.
(* This feature only available for jail broken devices.)
Why Cefipx?
iTunes only syncs songs from local computer to iPod, iPhone and iPad but not reverse. Cefipx remedies the lack of iTunes, which makes it possible to transfer songs back to mac computer from iDevices ( including iPod and iOS devices).
When needs Cefipx?
Accidentally you may lose your songs in iTunes library, these possibilities are hard driver crashing, replacing new computer etc. When any of these situation happens, and fortunately if you have full copy of all songs on iPod, iPod Touch, iPhone or iPad. It's possible to rebuild the iTunes library from your iOS devices, playlists and meta-data of tracks will be copied along with the transfer, so you don't need to worry about losing any information.
And Cefipx is smart enough to avoid duplicates of tracks in iTunes library during the whole transfer.
---

One Click Transfer
Copy songs from iPod to computer and recover iTunes library by just one click.

iTunes Matching
Cefipx compares all songs on iDevice to tracks in iTunes library on computer, those songs already in iTunes library will be marked with a green dot.

Fast Transfer
Cefipx transfers songs and videos on iPod, iPhone and iPad to computer fast and easy.

USB Disk Mode
Use iOS device as an USB flash disk for transferring files from to iPhone, iPad, iPod Touch.

Without Jailbreaking
Cefipx runs exclusively on mac computer, so there's no need to focus on jailbreaking or hacking your iPhone.

Drag & Drop
Easy drag and drop to move folders and files from iPhone to Mac Finder.

Songs Preview
Play and preview songs on iDevices before transfer, start preview by double clicking on it.
Multiple Devices
Cefipx supports wide range of iDevices from Apple, includes iPod, iPhone, iPod Touch, iPad, iPad 2, iPhone 4s, iOS 5 .

Auto Updates
Auto check for updates of new versions free. User will have the benefits to free updates to avoid buying the software more times.
---